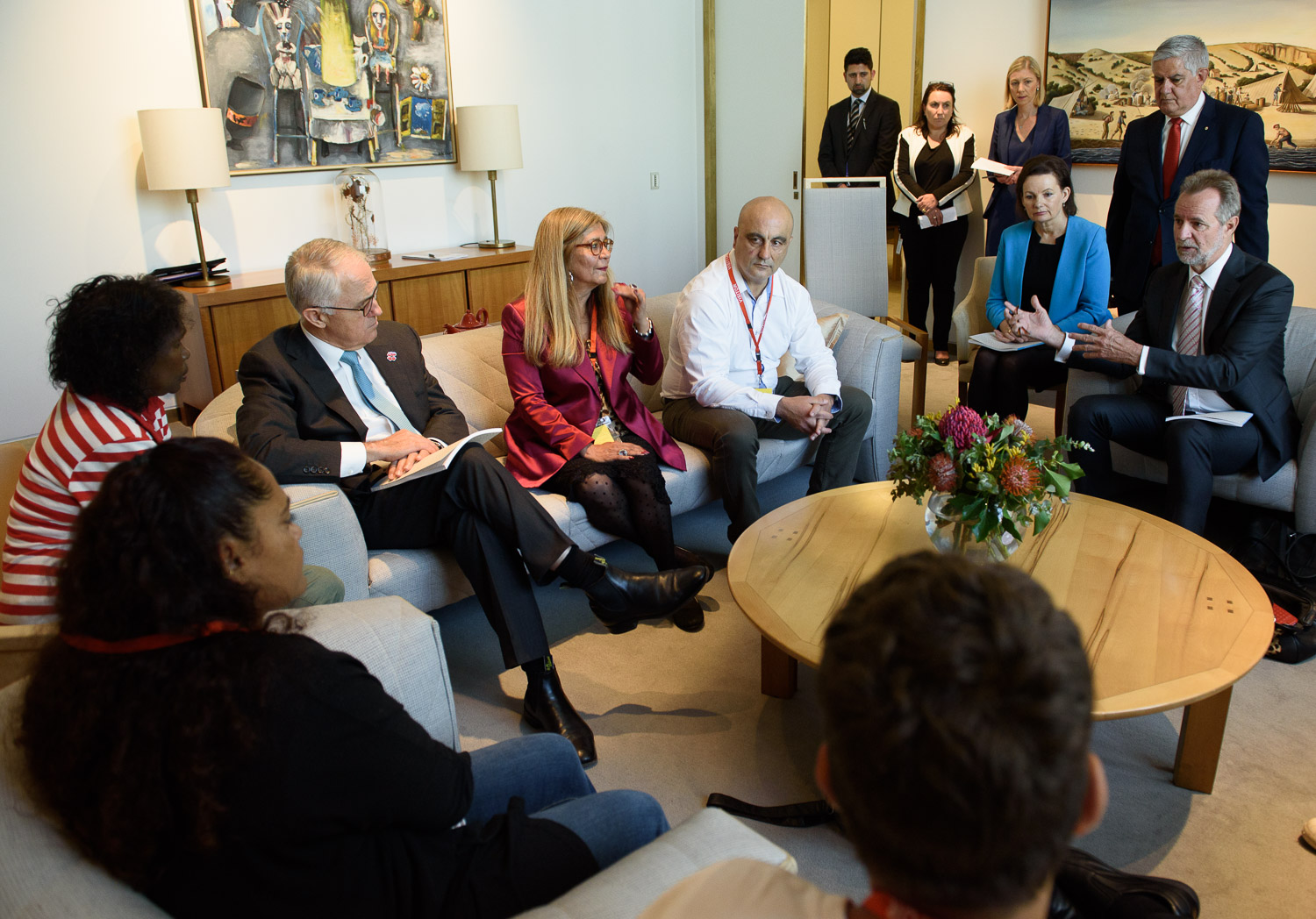 Gerry Georgatos was vital in launching the two and half years long ATSISPEP. Years of researching and reporting on the suicides crises – of migrants, Aboriginal and Torres Strait Islanders, of young people, of elevated risk groups – and in relentlessly campaigning for more to be done led for instance to the ATSISPEP. The ATSISPEP was informally agreed on by the Commonwealth Government on April 16 2014 and subsequently formally in July 2014. On November 10 2016 the ATSISPEP reports, evaluations and tools were formally handed to the Australian Government. The ATSISPEP was commissioned by the Federal Minister for Indigenous Affairs, Senator Nigel Scullion and funded by Prime Minister and Cabinet.
Suicide trauma affected families travelled to Canberra to meet on November 10 with the Prime Minister, Malcolm Turnbull and Ministers Nigel Scullion, Sussan Ley and Ken Wyatt during a private meeting prior the formal handover of the ATSISPEP reports at a formal event at Federal Parliament. Norma Heaton Ashwin and three of her children, Sharnice, Ronan and Caeden from Leonora, Western Australia, and Lena Andrews from Fitzroy Crossings, Kimberley, Western Australia, met with the Prime Minister.
Suicide is a leading cause of death and should be one of the pressing issues of our times, a priority.
The main report of the ATSISPEP: What the evidence and our people tell us – ATSISPEP report
The ATSISPEP also piloted a Critical Response Project in Western Australia during 2016 with the prospect that the Federal Government will establish the Critical Response nationally from 2017.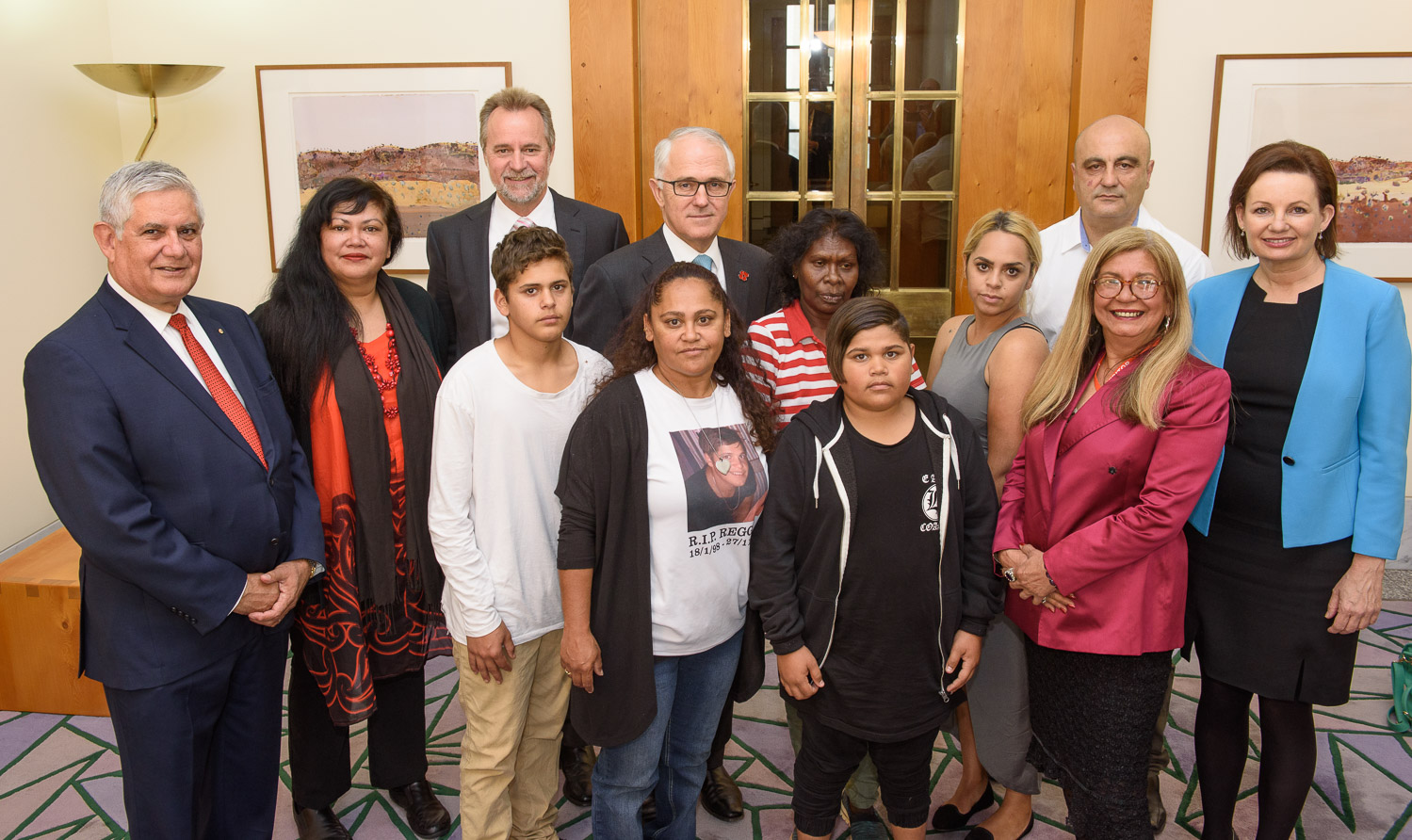 Media:
Trailblazers – The Conversation – November 14, 2016
Reduce child protection budgets – The Stringer – October 29, 2016
Suicide Prevention Plan needed – ABC News – October 12, 2016
Experts call for Indigenous Mental Health overhaul – Huffington Post – October 12, 2016
Vulnerable not reached – The Guardian – October 11, 2016
Humanitarian crisis – The Guardian – October 10, 2016
Doubts raised on 'falling rates' – ABC News – October 6, 2016
Custody Notification Service should be national – The Guardian – September 15, 2016
Indigenous suicide prevention policy – Australian Policy Online – August 3, 2016
Juvenile detention royal commission should be widened – Canberra Times – July 27, 2016
Thousands call for royal commission – ABC News – July 14, 2016
Australians want a royal commission into Indigenous suicides – Huffington Post – July 12, 2016
Suicide rates higher in the Kimberley – The Guardian – June 27, 2016
Powerless 'inquiry' – WA Today – June 10, 2016
Suicide on the rise among youth – Sky News – May 6, 2016
Data on Gay suicides missing – The Guardian – May 5, 2016
Inquiry into youth suicide across the Pilbara – SBS News – April 12, 2016
Eviction of the homeless wrong thing to do – Perth Now – April 5, 2016
Support team attends suicides – ABC News – March 15, 2016
Tragedy of 10-year-old suicide – Daily Mail – March 12, 2016
Australian town shocked as 10 year old girl takes her life – BBC News – March 10, 2016
Shocking statistics – Daily Mail – March 10, 2016
Ten year old takes her life – The Guardian – March 8, 2016
Critical Response launched – The Guardian – January 18, 2016
Humanitarian crisis in Australia – The Australian/AAP – July 2015
Youth suicide at crisis levels – ABC News – June 14, 2015
Elevated risk period – ABC News – December 24, 2014